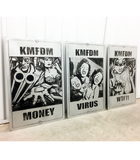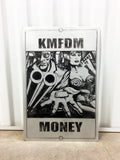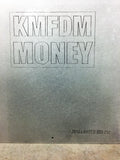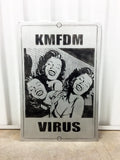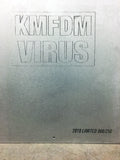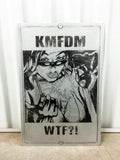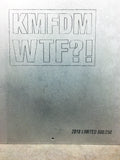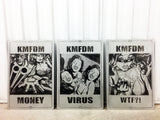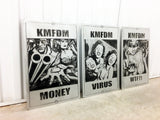 Limited Edition Album Cover Plates - Bundles & Singles! - RARE!
$85.00
PERFECT FOR YOUR "KMFDM KAVE"! 
Limited Edition hand-made album art plates, featuring the artwork of "MONEY", "VIRUS", and "WTF?!".
Each plate is hand-manufactured by Ohio-based metalworker (and KMFDM superfan) 
Rachel Schutt
. 
These unique, limited signs are made of aluminum, each hand-polished and colored using patinas. Using a transfer process, the album image is brushed on using a black aluminum patina, then the plate is finished with a high gloss protective coating. Each plate is then drill-punched with a nail hole at the top and bottom for wall-mounting. 
Schutt's work has been featured in juried exhibitions for the Ohio Art League, Urbana University's Miller Center for Visual Arts and the Shadowbox Live "Gallery of Echoes" ColumbUS experience. Canvas prints from her "Continuum" series have been displayed at COSI: The Center for Science and Industry. 
Schutt produces these, other works, and teaches at The Columbus Idea Foundry, a makerspace that permits students to freely produce works and offers classes on anything from lasers and 3D printing to welding and vacuum forming.
Rachel began welding in 2008 and has a deep devotion to metal and her craft. She enjoys nothing more than TIG welding her art while blaring KMFDM through her ear buds! 
If you purchased the NIHIL Limited Metal Cover Art Edition, the numbered bundle is essential to your KMFDM Kollection and Kave! In purchasing these, you are not only supporting KMFDM but Rachel and The Idea Foundry!
OFFERING: 
Limited Edition bundle, all three designs. Numbered on back 01-50. | $300-$265 | -

SOLD OUT!

 
Each bundle will contain all three designs; back of each will feature "KMFDM" and the title of the art, and the same sequential number on the back, 01-50. Numbers will be issued in sequence of orders received (first order receives 001, second receives 002...etc.)
No substitutions, please limit one per customer. 
Un-numbered, only 150 of each design produced. | $65 each |
Mix 'n' match as you choose, blank back.
SPECIFICATIONS: 15" x 10", .8mm thick, brushed aluminum, gloss coated. Similar to a road sign. 
PLEASE NOTE: Photos are of tests / samples, items will not appear exactly as in photos - each is hand made and unique! Numbering will appear as "2018 Limited XX/50".