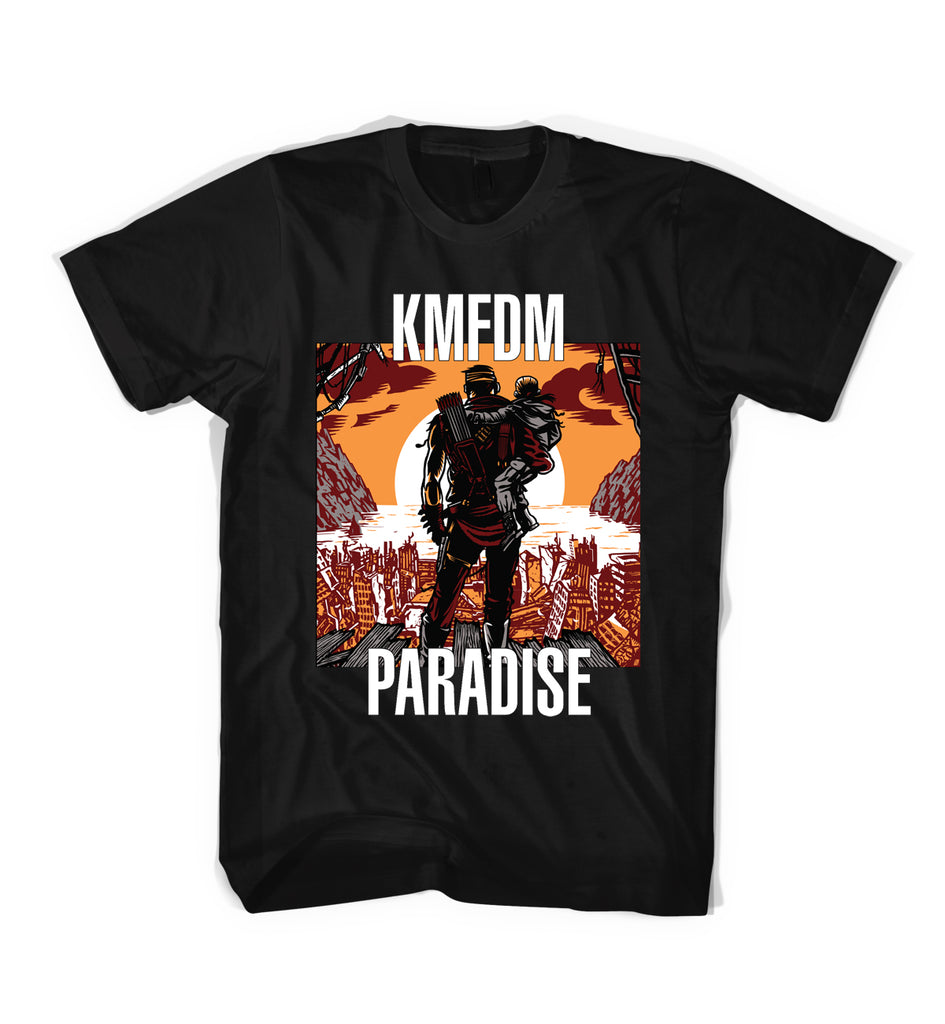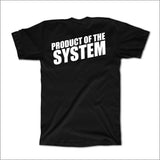 KMFDM Paradise Tee - Clean Version
$27.00
KMFDM PARADISE Tee
Two versions available - clean and UNCLEAN.
100% heavyweight ring-spun cotton.
-OR-
100% ring-spun LIGHTWEIGHT (30/1 thread count) tee. Highest quality durable, yet lightweight cotton feel. Ladies sizes available!
OFFICIAL PRESS RELEASE: 
With 2019 marking 35 years of conceptual continuity, KMFDM is showing no signs of slowing down or mellowing out – on the contrary, the Ultra Heavy Beat is as fired up and as energized as ever with the release of the band's 21st album, PARADISE!

Long revered for their innovative blend of virtually all forms of music into a monolithic juggernaut of industrial/rock, topped off with scathing and confrontational lyrics that challenge the social and political zeitgeist, KMFDM is at the top of their game as this latest album hosts some of the band's most diverse material. From the abrasive hip-hop stylings of "K-M-F," to the dark alt. rock ambience of "Oh My Goth," the dub-meets-electro/metal assault of "PARADISE" and "No God," and the mechanized industrial/dance energy of "Automaton," "Disturb the Peace," and "Megalo" (a new rendition of the band's classic "Megalomaniac") – KMFDM leaves no stone unturned as the album calls for revolution against a world overrun by fascism, authoritarianism, and violence.

Helmed by founder and frontman Sascha "Käpt'n K" Konietzko and Lucia Cifarelli, delivering their searing and brutal vocal performances like liquid daggers, and backed by the percussive fury of Andy Selway, KMFDM is joined by Black Sugar Transmission's Andee Blacksugar lending his angular guitars to give the seething bite of PARADISE just that extra shot of venom. Of course, what would a KMFDM album be without a few guest performances? For PARADISE hosts some of the most impressive in the band's history. Doug Wimbish (TACKHEAD, Living Colour) returns for another round to lend his electrified funk bass skills to "Piggy." Longtime alumni Cheryl Wilson brings her soul mama vocals to the disco-infused "WDYWB," while rapper Andrew "Ocelot" Lindsley delivering an all-out verbal assault on "K-M-F." But if that weren't enough, fans will undoubtedly be overjoyed as "Binge Boil & Blow" finds the Lord of Lard himself, Raymond "PIG" Watts returning to the KMFDM fold for the first time in 16 years !

Fascism is in fashion again, and the planet is a paradise for assholes… and KMFDM will have none of it! KMFDM's message is as relevant as ever, and PARADISE may be the band's most powerful outing yet, demanding that you live with no regret, don't look back, find your destiny, destroy what destroys you, and rip the system!