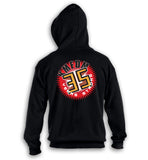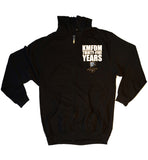 35th Anniversary Hoodie!
$63.00
COMMEMORATING THIRTY-FIVE YEARS OF CONCEPTUAL CONTINUITY
It all began 2.29.1984 in Paris, France, with a performance art piece at the Grand Palais. From choosing the name from words clipped from a newspaper in a hat, in the style of the great DaDaists of the time, to the first single release that year, across almost twenty studio albums and countless singles, through monumental tours and performances, to the present day, none of this would be possible without YOU. Don this "treat for the freaks", featuring commemorative art by BRUTE!, knowing that you are one with KMFDM NATION. 
Happy 35th Anniversary TO YOU. 
•••
100% heavyweight cotton zip-front hoodie.
Ladies sizes available!